My first dog was a crossbreed, she was rescued and came with a wealth of 'issues'.
These 'issues' introduced me to the world of obedience training for dogs and in addition to my own dog I trained and exhibited many other dogs. A few years later I started breed ring craft training with her in order to learn how to handle a pedigree dog in the show ring.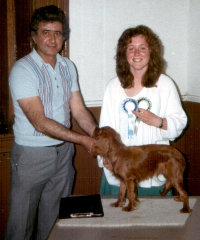 I went on to win many club competitions which when you're young is great fun!
My dog handling skills were noted and it wasn't long before I was asked to handle other peoples' dogs in the ring. I exhibited a variety of breeds up and down the country including Bullmastiffs, Cavalier King Charles Spaniels, a Shar Pei and a Bouvier des Flanders.
This is how I was able to buy my first Airedale Terrier.
Throughout my teenage years I walked dogs before and after school but at that stage never considered it as a career.